Register for Free and Start Earning Money with PTC sites.
Today there are millions of people are still working on Paid to Click sites to earn money with PTC Sites.
It is really fun and enjoying when you make money just by clicking Ads and earning some extra revenue.
Though PTC income is little, few people are making good money from these sites.
There is no need to invest any money to join this program, but you can make genuine revenue.
In this article, we are going to discuss genuine sites to earn money from your home.
What are PTC sites?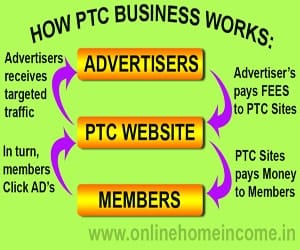 Ptc sites are simply called Paid To Click sites, that pay you with real money for viewing advertisements listed on their website.
This method is best useful for newbies who are new to online money making.
Working in Paid to Click sites is one of the best options to make money with the internet.
One small issue is that PTC sites will pay you in fractions of dollars such as $0.001 or $0.01 per Ad view.
You have to click and view the ads for about 5 – 30 seconds and it depends on the length of the ad they will pay you.
Many people stopped working after some time with PTC sites because of this low-income potential.
But I admit that if you worked with planned strategy and consistency I am sure you can make even Rs.10000/- and more every month.
One of the best reasons to join PTC sites is, Registering with PTC sites is absolutely free and it requires no investment to start.
You can start to earn from Day 1.
You won't be scammed unless you join scam sites.
What are the Requirements?
If you want to earn money with PTC sites, you need to satisfy certain requirements to work with them. Here are those needs:
A personal computer (or Laptop) with an Internet connection
Gmail account
PayPal account. (Read Instructions here to register PayPal)
Personal Bank account
Pancard (for Indian People)
Daily 3 – 4 Hrs willing to work
ATTENTION: Register only one account with one PTC site with your computer. But you can register with as many PTC sites you can.
How Long Do I Work Every day?
Yet another question! I had an answer, and the answer is "It depends".
Yes, it depends on the person who works and it is related to many aspects such as internet speed, server time you are working, and the number of ads you are watching.
But, what I say is working daily 30 min – 1 hr every day with only a few genuine paying PTC sites will make you around Rs. 25000/- every month.
Remember, consistent and planned work is required.
In the online home income site, you will get to see the list of few genuine paying PTC sites because those sites were tested by us personally and we are getting payments still today.
How Much Will I Get Paid?
Every PTC sites will pay around $0.001 to $0.01 for every AD you are viewing. If the AD view time is long probably you will be paid much more and inversely proportional.
All your earnings will be paid instantly and updated in your personal account.
If you want to earn more then you have to refer some people in your down line.
Many PTC sites have referral programs and those sites may share a percentage of 10% to 50% per referral click.
To earn more you have to register with more than one or two PTC sites and have to work regularly at their server time.

Don't forget to view all available ads in your account every 24 hrs.

You can do even tasks and other offers on your account page to increase your earnings.

Some sites proved that by completing tasks and offers makes a member earn up-to $10 – $25 (Rs 500/- to Rs 1500/-) every day.

But you have to work for about 1 – 2Hrs daily.
Try to upgrade your membership in the PTC sites to get more income per AD view.
As a standard free member, you will get $0.001 for 5 Sec AD, but you will get $0.01 for the same 5 Sec AD if you become a Premium Member of the site.
For sure, you can make Rs. 10000/- and more every month with these PTC sites.
What are Referrals and How they Earn for Me?
Referrals are the people who are just like you are working on these sites. Only thing is that they had joined using your referral link that is, you are the sponsor.
Many PTC sites offer a referral program to increase their member base and also you will get paid between 10% to 50% for all the income of your referrals for a lifetime.
That is, you will get paid as long as the person you are referring was working, you can make referral commission to earn money with PTC sites.
Referrals are of two types. One is Direct Referrals and another one is Rented Referrals.
Direct referrals are the people who joined using your referral link as the same, Rented referrals are the people who were assigned in your down line as referrals by the PTC sites for a certain period of time.
[page_section template='1′ position='default' padding_bottom='on' padding_top='on']
You can buy referrals by paying some compensation for renting referrals. For Eg: Neobux offers rented referrals for $0.2 per referral for 30Days.
If you rent for some days longer the same amount will be less.
Renting referrals will work for someone and not for all, because you may be in a risk of getting bots as referrals.
You will not come to know the details of the referrals in your downline at any cause. This was one of the biggest issues in the PTC sites.
MY best advice is to try ways to get direct referrals as more as possible because you will not be scammed at any point.
Learn this guide to get to know the ways to get direct referrals for PTC sites.
[/page_section]
Does It Really Worth For Me?
I am sure it is worth for those people who are seriously interested in investing time to viewing all available ADs in the PTC sites and always working on the ways to get direct referrals.
Referrals are the backbone of success in PTC business and you have to get referrals continuously to increase your earnings in PTC sites.
Getting direct referrals for PTC sites is not difficult if you follow this guide, and after that you have to be in touch with your referrals to guide them, teach them and motivate them.
This way your referral can be alive for a long time and also you will get long term income.
Tips to Earn Money with PTC sites
Register with more than 1 – 5 PTC sites.
Keep as a habit of viewing all available ads in your account every 24Hrs.
Refer your friends, relatives, and your social network friends also to join as your referral.
Try to get Premium membership.
Having some extra time, complete tasks and offers.
Recommended PTC sites to Register:
1. Clixsense, now Ysense, is the most trusted PTC sites on the internet started since 2007 and have been more than 7Year in this field.
They were paying their members through PayPal, Payza.
You can earn from viewing Ads and also doing tasks and other offers. If you put your real effort in Clixsense you can surely make Rs5000/- to Rs15000/- every month.
Join Ysense here
2. Neobux is the King of the PTC sites started since 2008 and has just completed its 8th year anniversary. You can earn by viewing Ads and completing tasks and offers.
I have received many payments from Neobux and have been displayed here. You can register for free and start to Earn today.
Join Neobux here
How to Find Genuine Paying PTC Sites?
Every day a lot of new PTC sites are launching in the market and they vanish in a very shorter period. You have to be aware of those PTC sites.
Join only with PTC sites that were having a long paying period, have been in the field for 3 – 5 years or more.
Make a Google Search with the keyword – "Sitename scam" or "Sitename complaints" etc. to get to know the status of the site.
Do register with some forum sites like Emoneyspace and interact with the people of the similar group to get information's about a particular you were intended to join.
Follow some gurus who are already succeeded with the site you preferred. Follow them but don't do that they did? Because it will work for him but may not be for you.
At last, you will be fed up being scammed. So, lay and travel in your own way to get success.
I am sure you can make money with PTC sites, if you follow these principles in your career and those are, Register with more PTC sites,
Work regularly, Refer your friends and others, Get Premium Membership, Do spend time to complete tasks and offers.